Fairfield Flowers, Virginia Beach, VA - Customer Flower Reviews
Like us on Facebook.
Total reviews: 265 reviews | Star Rating: 4.81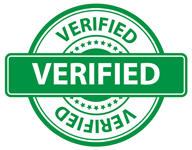 Real Customers, Real Reviews
All reviews are from verified Fairfield Flowers customers. Our verified reviews require a validated order number, purchase date, and email address. They are collected, certified, and monitored by an independent, dedicated review company, See What You Send, Inc., that does not allow reviews to be filtered or deleted, unless requested directly by the customer.
Nov 24, 2018
Although it was nice it was not what I ordered.i use this shop for all my flowers and have always been satisfied but think this time it didn't hit the mark
Jun 14, 2018
Very Disappointed. Not what I expected as a substitute.
Responded To By:
Charlene Wesseler / Owner
Jun 19, 2018
We hope you will use us again in the future! Feel free to ask for Amber directly!
Mar 22, 2018
It seems the photo I was shown had so much more flowers than that? and I thought she said aprox 12 stems with several small roses on each stem
Responded To By:
Charlene Wesseler / Owner
Mar 26, 2018
Hello AJ! We are so happy that we were able to fix this issue for you and that your wife loved her flowers!

Kristen